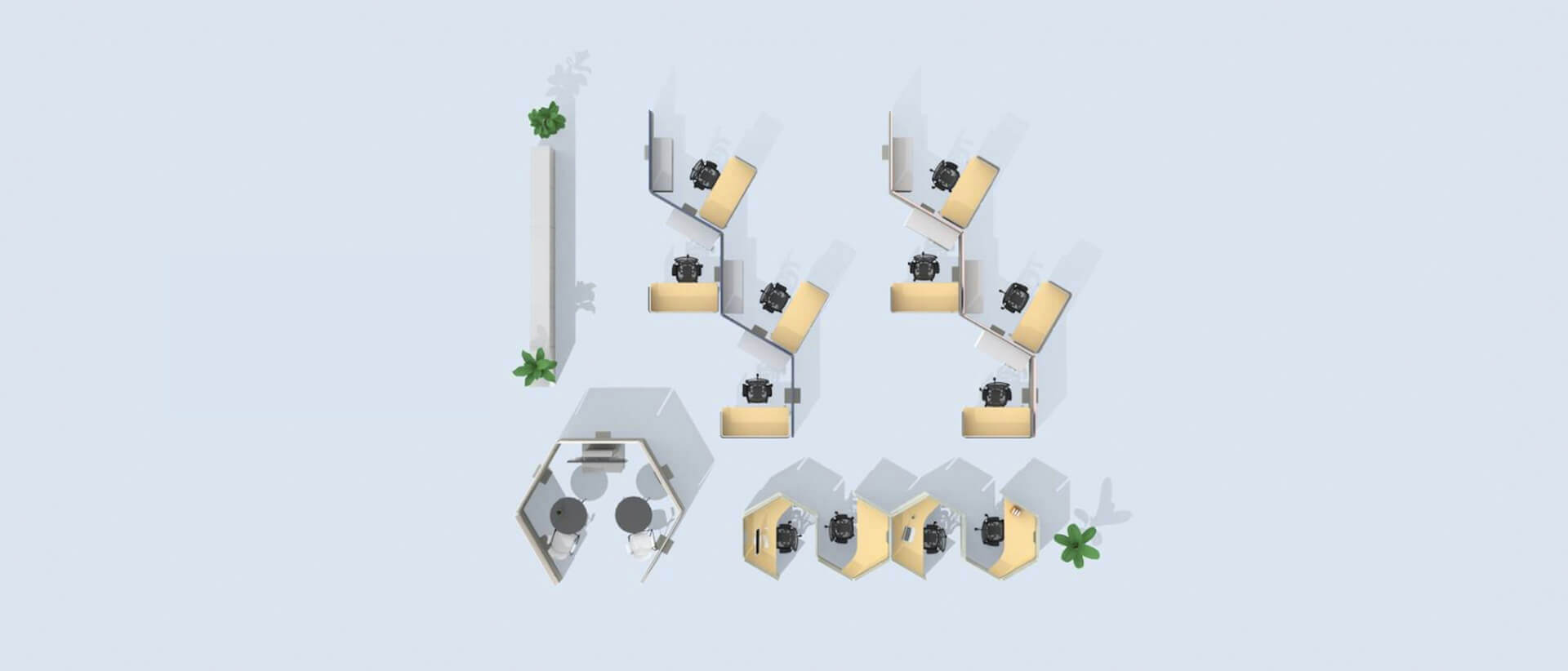 | | | |
| --- | --- | --- |
| | With the new reality of work post-COVID-19 comes concern about how to keep employees and customers safe. How, then, can we shape our workplaces to be healthy, hygienic and dynamic, while keeping those who use them inspired, engaged and resilient? | |
Rethinking Floorplates in the
Post-pandemic Workplace

In the post-pandemic workplace, floorplates and furniture need to support agility, as well as promote workplace flexibility, comfort, belonging, connectivity and resilience. Stagger or orient desks in opposite directions, and introduce physical barriers between workstations. While it's uncertain if screens prevent the spread of viruses like COVID-19, they can at least create the perception of safety.
Safe Places

Even though there are no physical distancing requirements at Alert Level 1 physical distancing is still encouraged where practical *. Guidelines suggest 4 square metres per person, desks separated by 1.5 metres, and 1.5 metres between the centre point of each chair . If space limitations preclude this, limit desk-sharing, and clean office furniture at the end of each workday. Turn meeting rooms into dedicated workstations and integrate cleaning time between face-to-face meetings.
Privacy Please

Helping create a sense of safety in the workplace is Catena Office Landscape: this mobile partitioning system can be configured as a physical barrier between workstations and more. Built for workplace change, it moves from rectangular to grid to honeycomb configurations with ease. Catena also supports acoustic and visual privacy.
Support Agility

Atlas Office Landscape, a height-adjustable workspace system whose connected legs enable instant reconfiguration. Shifting between rectilinear, 90-degree and Z-plan layouts in a flash, Atlas facilitates physical distancing via staggered workstations. When physical distancing is no longer necessary, flip Atlas to collaborative settings.
| | |
| --- | --- |
| | |
| Before | After |
The Conventional Office

To promote physical distancing, Atlas has been reconfigured to create an area with four staggered workstations instead of six side by side (Before; top left).

Catena, meanwhile, creates a screen between each desk in this office, providing psychological comfort to staff working here. It acts as an acoustic barrier, creating quiet space for calls and online meetings (After; top right).
| | |
| --- | --- |
| | |
| Before | After |
The Open-Plan Office

Here, Atlas sets the scene for a safe workplace that minimises health risks by promoting physical distancing. Staggered desk arrangements take seat numbers from eight to four, each with at least 4 square metres of space. Additional desks replace open meeting areas. They are supported by Catena, which creates privacy and the perception of safety.
| | | |
| --- | --- | --- |
| . | Related Insights | . |
| Strategies for returning to the workplace following Covid-19 | | |
Back to the Top ⇧
References:
* https://www.health.govt.nz/our-work/diseases-and-conditions/covid-19-novel-coronavirus/covid-19-information-specific-audiences/guidelines-businesses-and-services