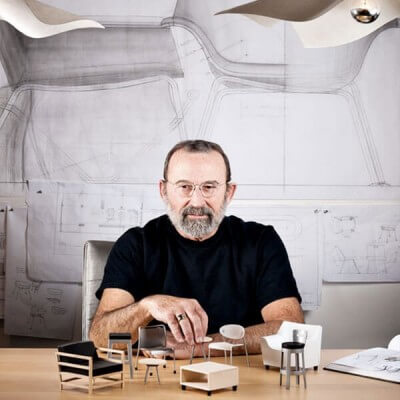 Brian Kane was first introduced to the world of industrial design by a high school guidance counselor.
"He pointed at his office chair, his phone, the clock, and said, 'These were all designed by somebody,'" recalls Kane.
After graduating from the University of Bridgeport in Connecticut and spending a year in New York working on designing appliances, Kane and his wife headed for Milan, Italy, where he literally knocked on doors. One opened—architect Silvio Coppola's—and it changed his life. "Seeing his passion for design was a real head turner for me," says Kane, who decided that furniture design was what he wanted to pursue.

In 1989 Kane established Kane Design Studio in San Francisco, where he focused on what he loves most of all: seating. "It's all about comfort and innovation," he says. "I have always attempted to explore materials and processes and use them in ways that add an element of detail that is unique. I'd call myself a minimalist; I strive for simplification in both form and manufacturing."

When developing Herman Miller's Swoop lounge furniture line, Kane drew on his experience as a teacher at the California College of Art, where he observed how students interact with furniture.
"They don't really sit in a chair; they sprawl, they lie, they perch. With their iPods and computers, they can be totally tuned out in a busy environment as long as they're comfortable."
"I tried to respond to that form-wise, with 'swooping' curves that people can throw their arms or legs over and still be comfortable and well-supported," he says."
Awards / Recognition:
Industrial Designers Society of America (IDSA) IDEA Awards
Rubber Chair Collection, 1984
Manhattan Collection (Metro), 1988
Pacifica Lounge Collection (Metro), 1990
Showroom (Wieland), 1994
Exhibit (Landscapeforms), 1995
Xorel Chair (Carnegie Textiles), 1997
ID Magazine Design Review
Sonoma Bench (Landscapeforms), 2003.