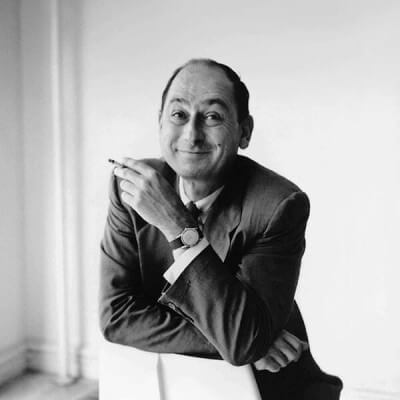 When writing about the course of his remarkable 50-year career, George Nelson described a series of creative "zaps"—moments of out-of-the-blue inspiration "when the solitary individual finds he is connected with a reality he never dreamed of."
The first break was being named an editor of Architectural Forum magazine. Working on a story there in 1942, he was looking at aerial photos of blighted cities when—zap!—he developed the concept of the downtown pedestrian mall, which was unveiled in the Saturday Evening Post.
Soon after, another zap led to the Storagewall, the first modular storage system and a forerunner of systems furniture. The Storagewall was showcased in a 1945 Life magazine article, causing a sensation in the furniture industry. Herman Miller founder D.J. De Pree saw the article and was so impressed that he paid a visit to Nelson in New York and convinced him to be his director of design, which spurred Nelson to found his design firm, George Nelson & Associates. The warm, personal, and professional relationship between Nelson and De Pree yielded a stunning range of products, from the playful Marshmallow Sofa to the first L-shaped desk, a precursor of today's workstation.
Nelson once wrote that Herman Miller "is not playing follow-the-leader." That's one reason why George Nelson & Associates worked with Herman Miller for over 25 years as they shepherded design into the modern era.
Awards / Recognition:
Permanent collections of the Museum of Modern Art, Brooklyn Museum of Art, Philadelphia Museum of Art
Lifetime Achievement Award, American Institute of Graphic Arts, 1991
Scholar in Residence, Smithsonian Institution National Museum of Design, 1984
Chairman, International Design Conference in Aspen, 1965, 1982
Good Design Award, Museum of Modern Art, 1954
Trailblazer Award, National Home Furnishings League, 1954
Best Office of the Year, New York Times, 1953
Gold Medal, Art Directors Club of New York, 1953
Prix de Rome for architecture, 1932