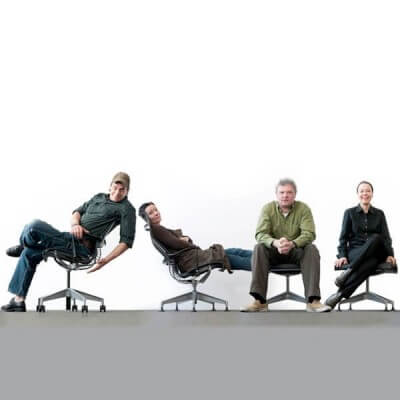 Burkhard Schmitz, Claudia Plikat, and Carola Zwick began their partnership in 1992. They were looking for the freedom to work on projects that interested them, and for the freedom to do so without bosses or titles.
This is the way they've operated ever since. "Everybody does everything," says Burkhard, speaking for the group that now includes Carola's brother Roland Zwick. "That's how we cultivate ideas and maintain our openness and curiosity."
The group's name—Studio 7.5—comes from an early idea to rent a 7.5-ton truck, put a model shop in it, and drive from one project site to another. Obviously, freedom of movement is important for these designers.
They move freely—and smartly—when designing products for their clients.
The complexity of design problems, Studio 7.5 believes, requires collaboration, and repeated testing of ideas in full-scale models until the most elegant answer emerges.

They love designing furniture, or as they prefer to call it "equipment," as in the tools modern workers need for the work they do.
They find designing office chairs in particular to be most rewarding, having worked with Herman Miller on the Setu Chair, the award-winning Mirra chair, and its successor, Mirra 2.