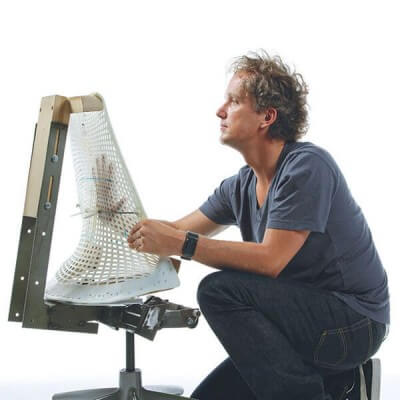 Yves Béhar is a thinker. And one thing he thinks about a lot is the future.
You can see it in his designs—from his reflective red-lacquered laptop for Toshiba to his elegant closed-toe Footprints for Birkenstock to his refined Aliph Jawbone Headset for cell phones.
"I believe design's purpose is not only to show us the future, but to bring us the future," he states.
The founder of fuseproject ("dedicated to the emotional experience of brands through storytelling"), Béhar has been exploring the design world since his childhood in Switzerland. "In Europe, it is double nature to evaluate objects based on how they work and how they look," he explains.
Béhar grew up in a bicultural home, influenced by his East German mother and Turkish father. "One is functional and modernist and the other, expressive and poetic," he says. "I always try to marry the two in my projects."

Awards / Recognition:

IDEA, Twist (Bronze), Ardea (Silver-eco, Gold-ID), 2010
GOOD Design Award, Ardea and Twist, 2009
Green GOOD Award for Leaf, 2009
Red Dot Design Award for Leaf, 2008/9
Spark Award for Leaf, Silver, 2007/8
ID Magazine Annual Design Competition, 2002/3/4/5/6
IDEA, Business Week Gold, Silver and Bronze Excellence Award (17), 2001/2/3/4/5