Whiti Ora | Starship Foundation
July, 2023
DESIGN BY | TOA Architects
LOCATION | Auckland
"Under the dawn sky, the name of this building was unveiled. Whiti Ora means Spring, the planting of new seeds, signifying Starship Foundation's mission to nurture a nation of healthy children."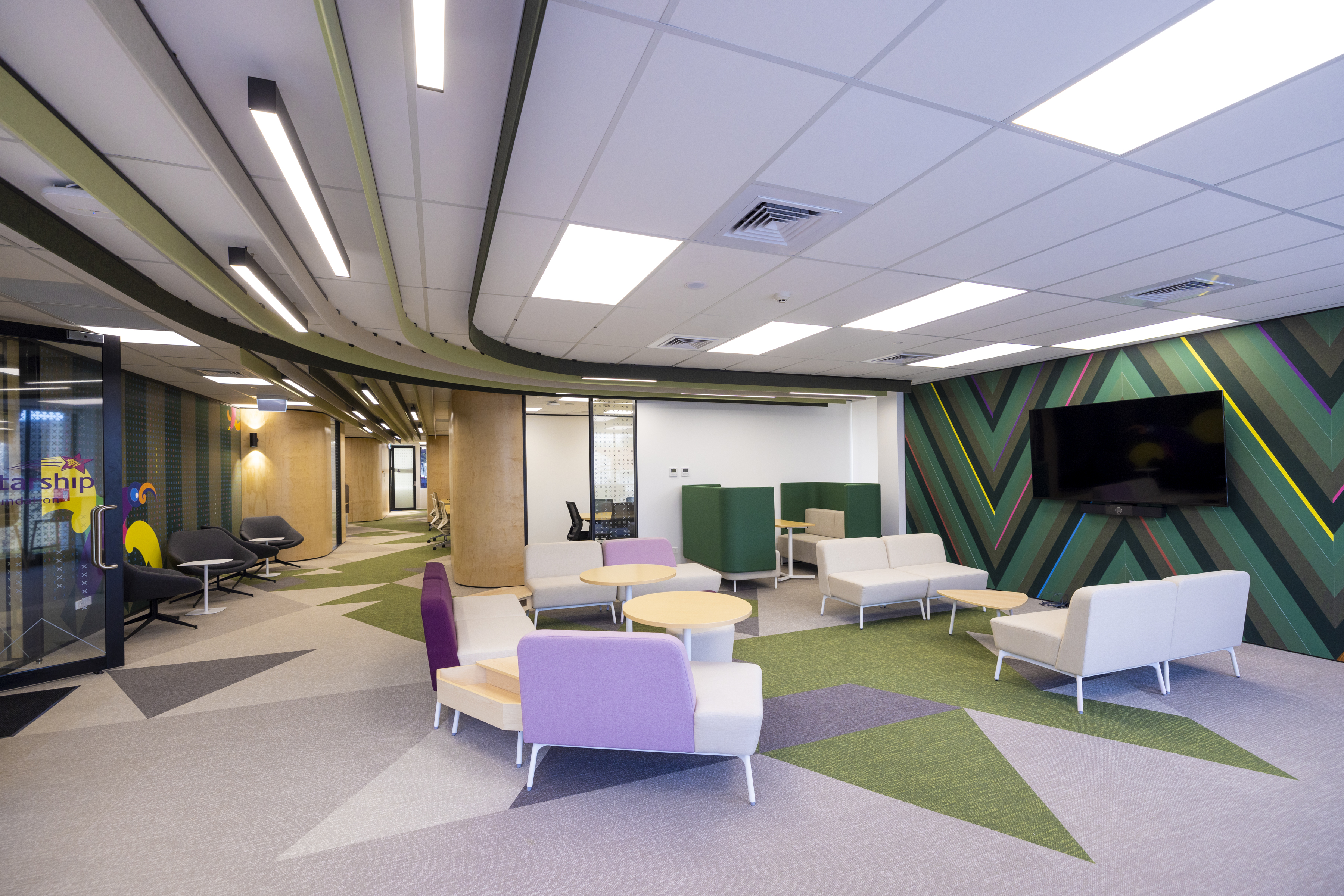 PROJECT BRIEF |
Starship Foundation were bequeathed a gift to fund a new centre for Research Innovation Collaboration and Excellence, to accelerate world-class health for all tamariki and rangatahi in Aotearoa. This involved the refurbishment of a three-story building in Grafton, housing an Education and seminar space, Innovation lab, Content and experience hub and a workspace for the Foundation team and Research Clinical Hub.
The Foundation were gifted a Cultural Narrative by Dame Naida Glavish, the ADHB Cultural Advisor, which tells the story of the Pīpīwharauroa placing its eggs into the Riroriro bird's nest, to take care of and nurture. This kōrero is embedded in the design, throughout the exterior and interior of the building; the kōwhai tree (and the pīpīwharauroa's call) indicating the first sign of spring, the curved decking representing Tangaroa and the pīpīwharauroa's journey to Aotearoa, the glazing manifestations representing Matariki and Mahuru (spring), the thresholds at each level indicating the transfer between spaces 'gifting over'.
Part of this kōrero and design also speaks to Te Waonui a Tāne, where the pīpīwharauroa lives. This is represented in the levels of the building; the ground level being the forest floor and shrubs, where we get our nutrients and rongoā māori, where manaaki and kai are provided. The first-floor level being the tree canopy where the branches reach new heights for Ranginui , this is where the Foundation and Innovation Teams live. The layout of the walls on this level represents the feeling of 'swooping' between the tree tops. This kōrero is also reflected in each of the feature walls throughout the building.
TOA also took into consideration, the tikanga around pōwhiri, manaakitanga and tiakitanga, to care for others.

SUPPORT THE STARSHIP FOUNDATION |
Donations, large and small, have a real impact on the lives of New Zealand's really sick and injured children. The Starship Foundation raises funds for projects and initiatives that transform and enhance paediatric healthcare. We couldn't do this without our generous supporters all around New Zealand.
DONATE TO STARSHIP DONATE TO STARSHIP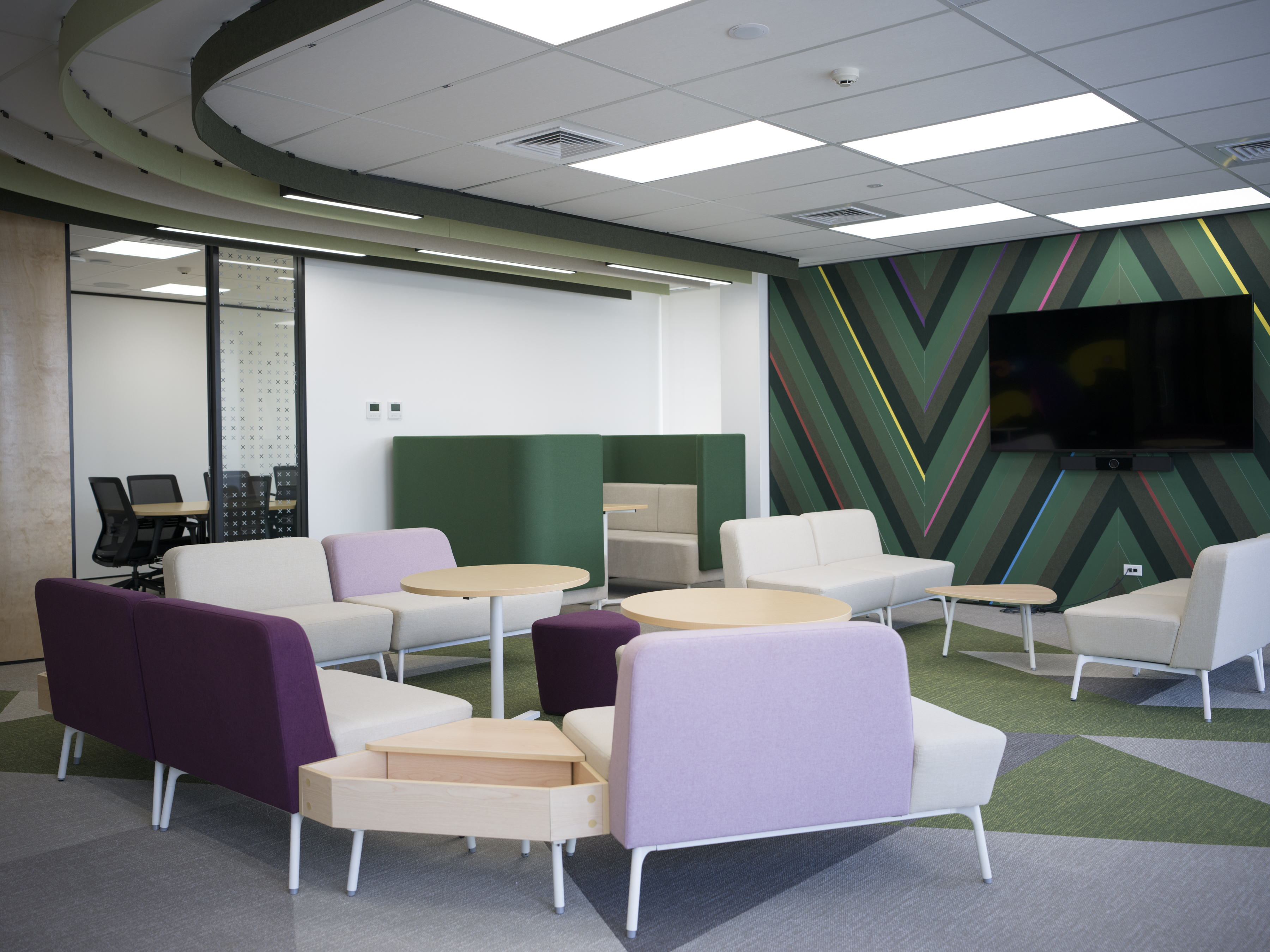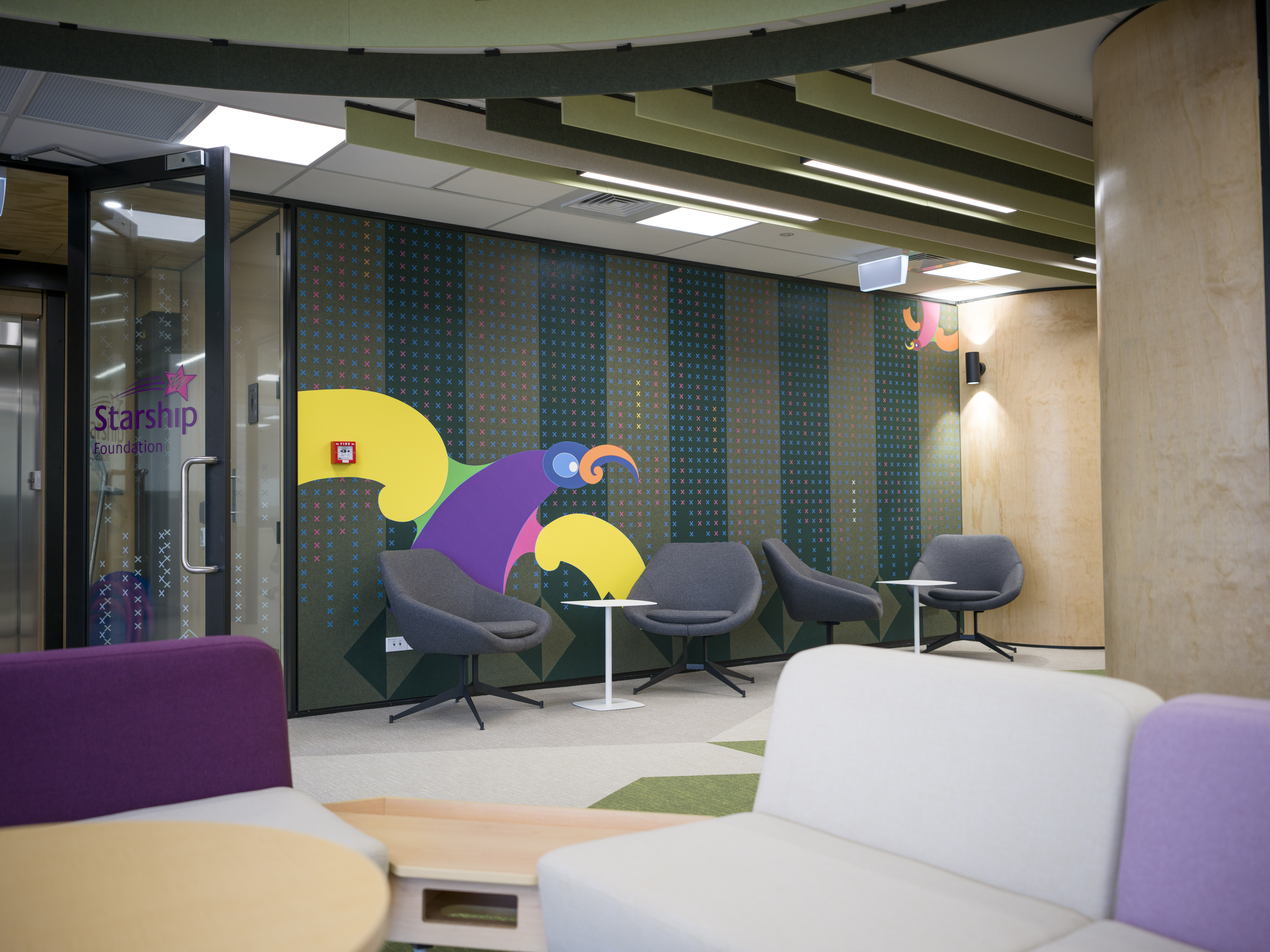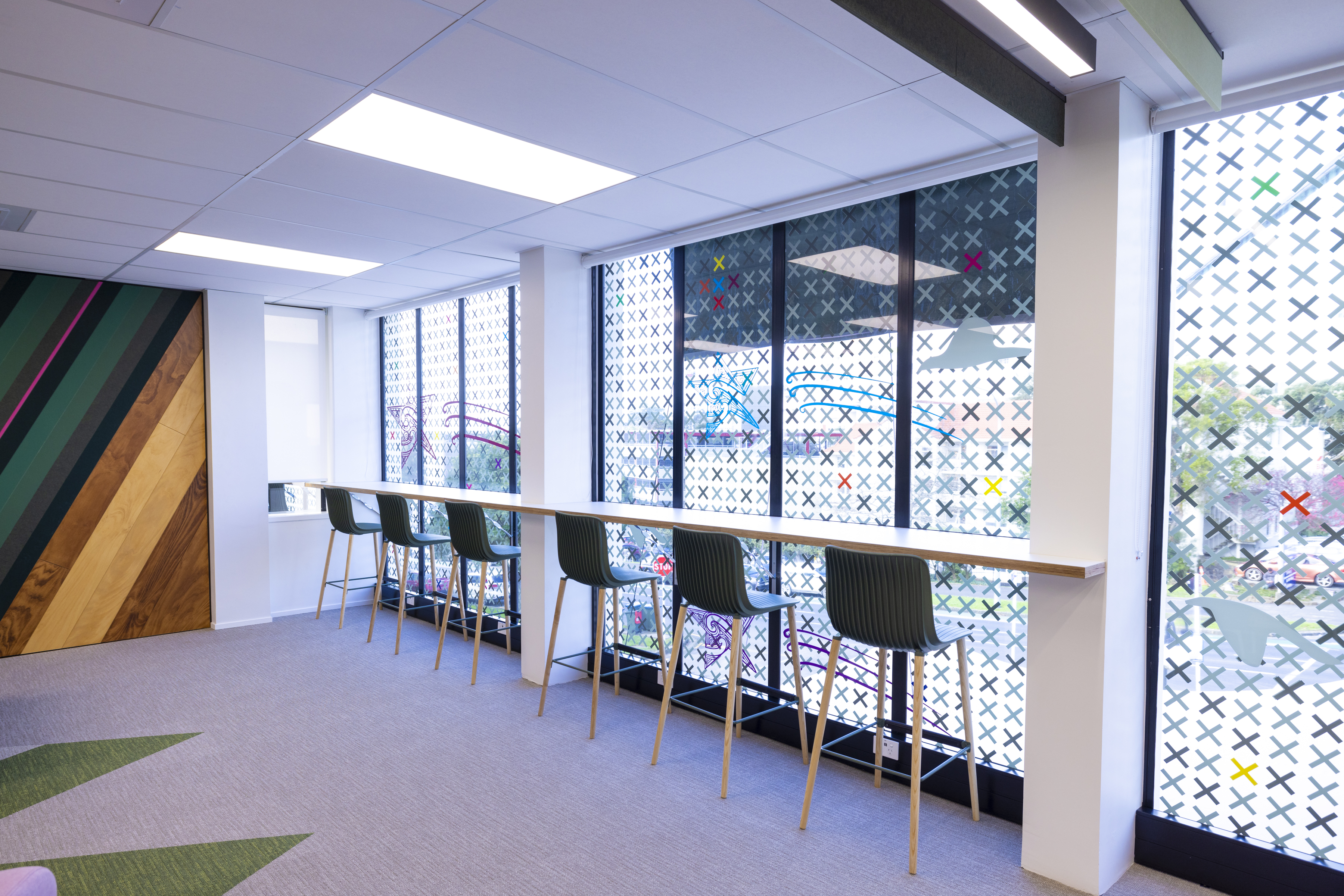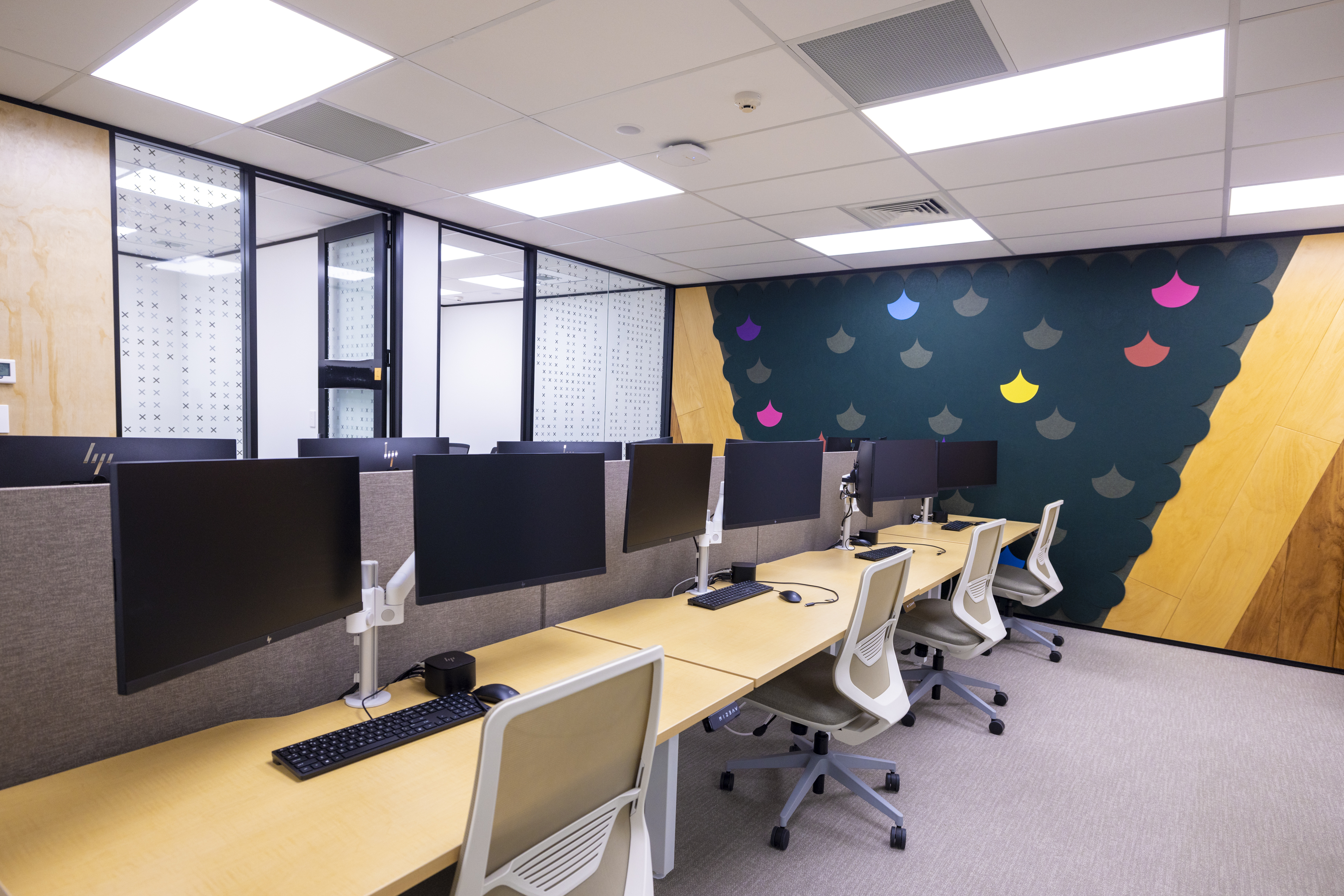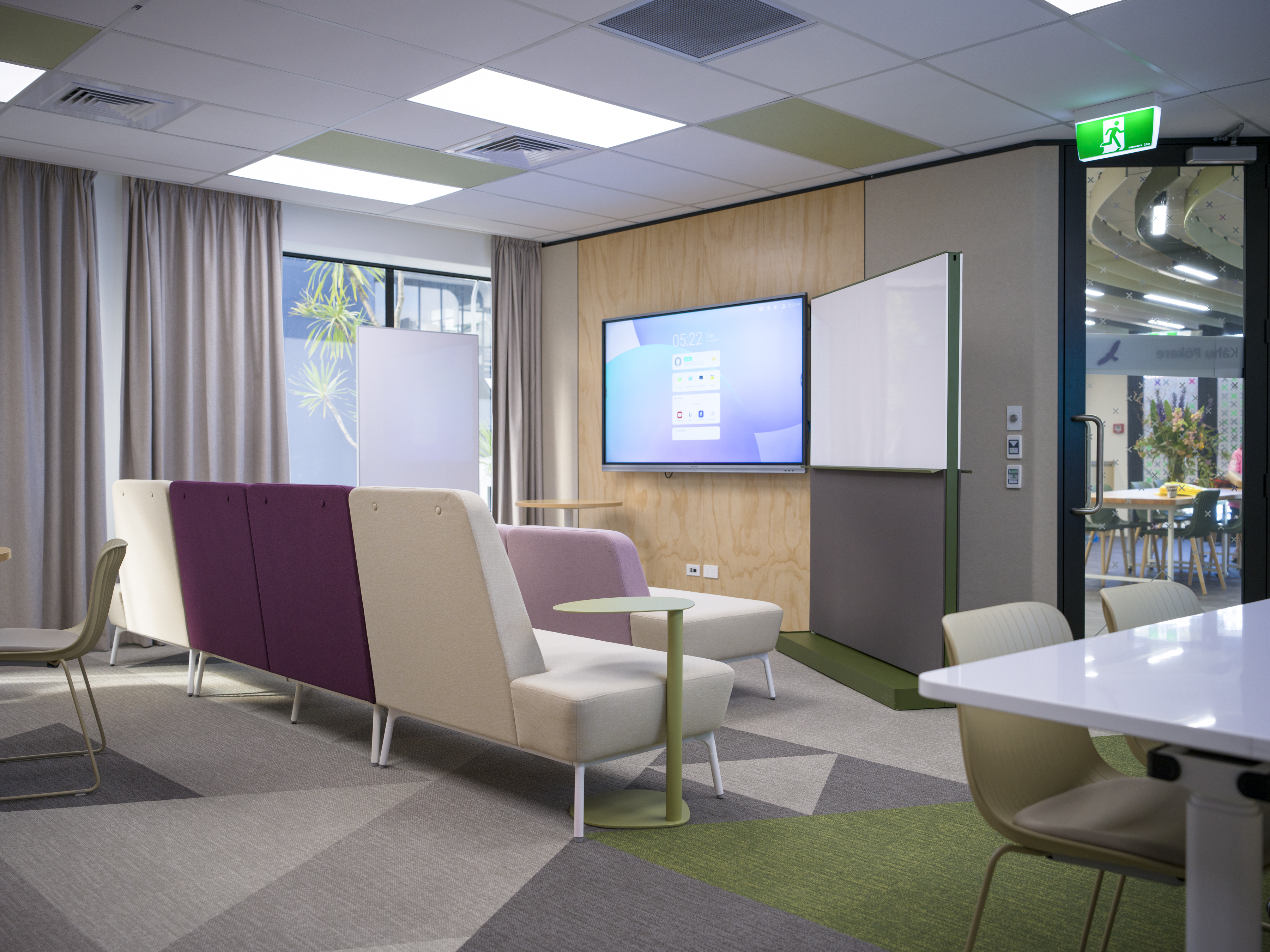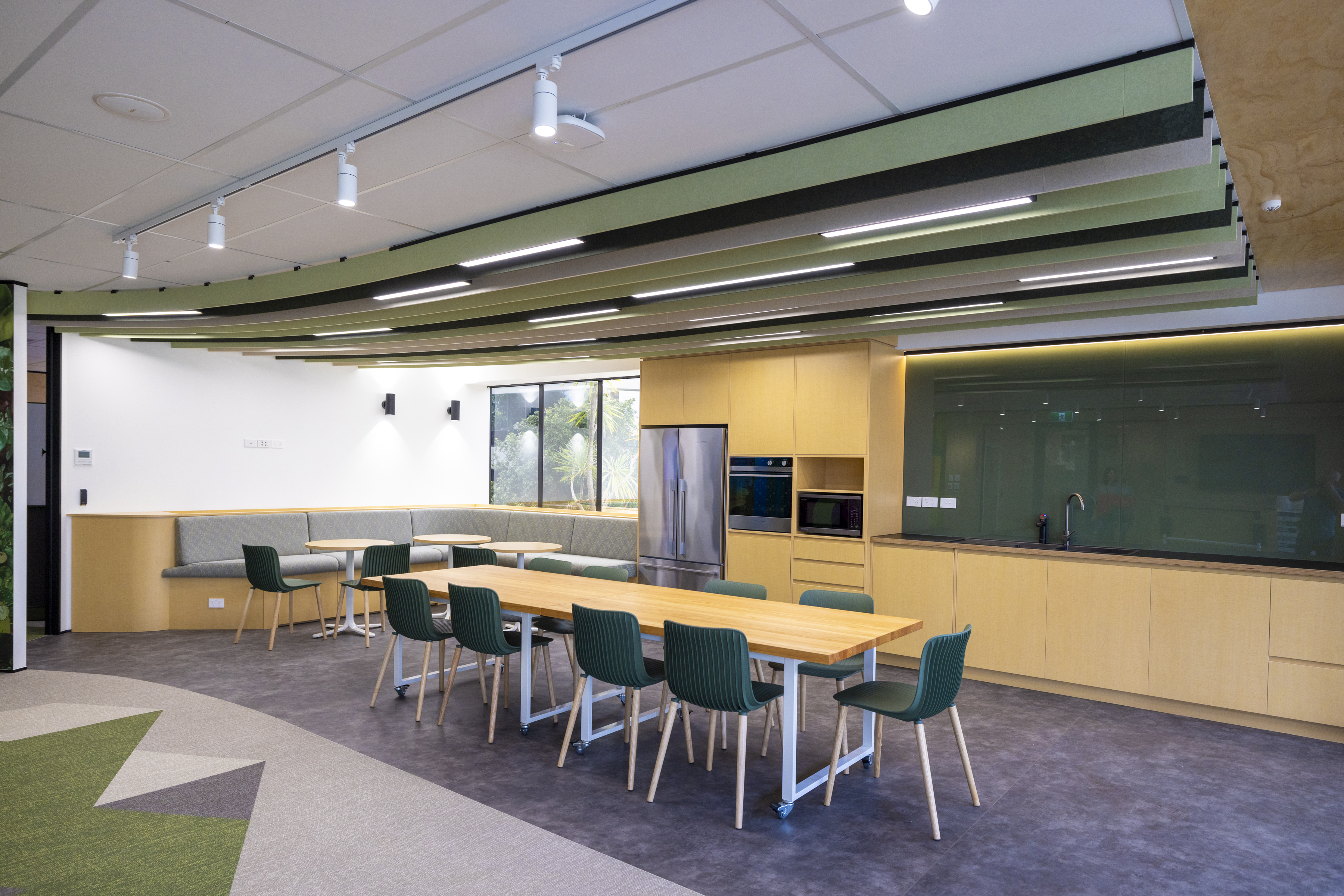 PRODUCT DETAILS |
The kitchen furniture; tōtara table top, green/oak leg chairs and tables, complemented the narrative and ngāhere colour scheme.
The education and seminar seating fits well within the large, open space with its sleek, light weight and comfortable design.
Innovation:
Jojo Electric Folding Table
U.R Flip Table
Segis Dragonfly Sled Base Chair - Beige Polyproplene Shell with Seat Cushion
Fluxo 5465 Round and Square Tables
Herman Miller Sabha Module Seating
Segis Easy Boy Table - Green
Reception + Workstations:
Herman Miller Posh Express 2 Chair

Education + Seminar:
Segis Dragonfly Sled Base Chair - Beige Polyproplene Shell with Seat Cushion
Herman Miller OE1 Agile Wall with Whiteboards + Tackable Tiles
Herman Miller OE1 Mobile Easel with Project Board
Toilet Lobbies:
Custom Lockers
Meeting Spaces:
Grove Table
Bold Table
Herman Miller Sabha Coffee Tables
Herman Miller Oval Eames Table with Segmented Base
Slim Table
Segis Dragonfly Stool - Dark Green Polyproplene Shell
Herman Miller Sabha Module Seating + Ottoman
Unison Den Booth - High Back Double Seater

Workspaces:
Unison B323-B1 Chair
Herman Miller CBS Lima Monitor Dual Arms
Kitchen:
Custom Soild Oak Tables on Castors
Segis Dragonfly Wood Base - Dark Green Polyproplene Shell
Fluxo 5465 Round Table
Special Thanks to:

Starship Foundation
TOA Architects
Studio DB
Project Brief provided by TOA Architects
Photographs Credited to Starship Foundation